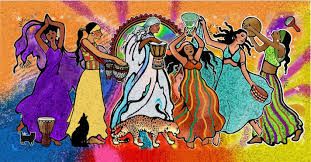 Smiling Drum Studio is dedicated to women and community. Women say to me that it is nice to have a safe space and place to learn to drum.
Having a place that supports women as drummers and builds on the lineage of women drummers has been important to me.
One way that I continue to be a part of the lineage is by teaching drum pieces that were composed or arranged by women. It is nice to stay connected to these women by sharing their pieces. I share them by both teaching the pieces to Smiling Drum groups and then by having the groups perform the pieces at community events.
To find out more about what women are doing as drummers I have included a few resources for you to check out. These resources either offer a history of women as drummers or are committed to supporting women as drummers.
Books:
When Women Were Drummers: A Spiritual History of Rhythms, Author Layne Redmond
Women Drummers: A History from Rock/Jazz/Blues and Country, Author Angela Smith
Drum Dream Girl: How One Girl's Courage Changed Music, Author Margarita Engle
Magazine:
Tom Tom - Tom Tom is the magazine pushing female drummers to make more noise.
Youtube video: