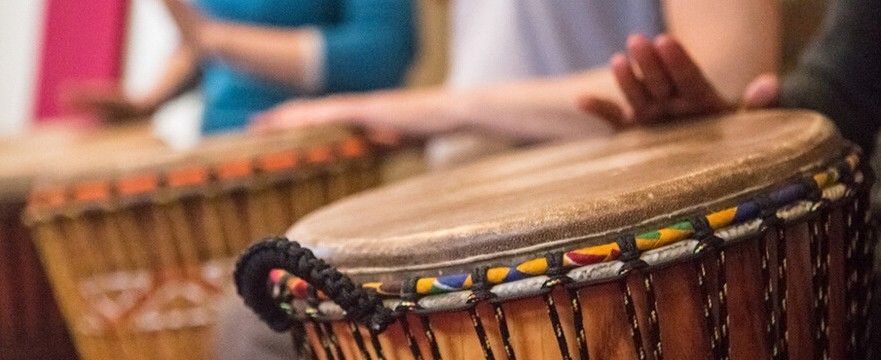 Guest Blogger: Liz Spicer, Smiling Drum participant for 2.5 years
I came from a family that loved music! My mother played the piano, and my father and brother drummed and sang. And I watched and clapped! I had good rhythm, but my voice was off-tune and I was pretty lousy at the piano. Girls never drummed when I grew up, so it never entered my mind. I was a frustrated musician!
Fast forward 50 years. The studio where I took tap dancing in California decided to offer a class in percussion. So I dove right in! I loved it even though the age range was 6 years old to me at 67! That's where I was introduced to the djembe!
Back in Minnesota, I googled to find a drumming class, and that's how I found Marisa. I was hooked! In addition to the snare, tom, conga, and djembe, we learned to play drums I had never seen before – the duns and surdos. It's great to learn all of them, but my favorite are the djembe, tom, and snare. My hands seem to take over and have a life of their own. The rhythm consumes me, and when we play, I feel like I'm transported to another place – It brings joy to my heart and mind, and it soothes my soul.
Marisa is a fantastic teacher! Her knowledge and experience are amazing, and she is so helpful and excited to share it all with us. Drumming has become an important part in my life and I am so lucky to have found something that has completed me. Music has always been a part of me, and now I feel like I am a part of music.
It doesn't matter if you've never drummed before, there's an instrument and a level for you! Playing with other women creates a community where you feel you belong – creating music together.